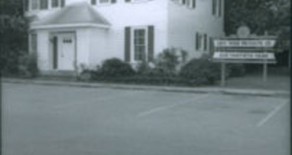 116 First Street, North 1986 Survey Information Site No.: D-0983 Address: 116 N. First Street Name: Love Wood Products Company/Diboll Library Date: 1930s Town: Diboll Block: Southern Pine & Lumber Co., Block 4 Lot: Out Lots Condition: Good; some alterations. Description: 2-story; wood frame with beveled horizontal siding; square plan with hipped 1-story addition on south, centered entry; pyramidal roof with boxed eave, composition shingles; hip roof over enclosed entry porch with classical cornice and Ionic pilasters; windows 6/6 wood double-hung with drip cap and wood shutters; detached wood frame one-car garage and separate carport at rear; large sycamore trees in yard.  Significance:  Built in 1930s.  [1986 Notes:  Style/Type:  American...
view the listing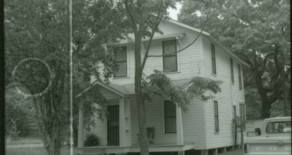 401 Moody Street 1986 Survey Information Site No.: L-0489 Address: 401 Moody Street Name: Mr. Gallagher House Date: 1917-20 Town: Lufkin Block: Denman Addition, Block 23 Lot: North part of Lot 1 Condition: Good Description: 2-story; wood frame with grooved siding; rectangular plan concrete pier foundation; gable roof with extended rafter ends, composition shingles; brackets at shed roof over west-facing windows; small extended porch with battered boxed columns; wood panel door with upper glass; windows 1/1 wood double-hung with drip cap. Significance:  Built by Mr. Gallagher, owner of the Lufkin Harness Shop; Mr. Gallagher was from New York, settled in Lufkin after World War...
view the listing
444 Jefferson Avenue 1986 Survey Information Site No.: L-0364 Address: 444 Jefferson Avenue Name: Walter C. Trout House Date: 1913 Town: Lufkin Block: Hill Addition, Block 2 Lot: 1 Condition: Good; altered by vinyl siding. Description: 2-story; wood frame with yellow vinyl siding; brick foundation; irregular plan; hip roofs with deep eaves, brackets, composition shingles, interior brick chimney, hipped dormer; extended porch, gable roof over entry, square brick columns, low brick wall, wood-paneled entry door with leaded glass upper light and side lights; wood double-hung windows with 9/1, 12/1, 18/1 sash, shutters on front; detached 2-car garage at rear; sun porch on east with ribbon of multipaned casement windows, small balcony on second story with plain wood railing.  Before Jefferson Street was created in 1913, Kiln Street ran on the other side of these residences.  There is still evidence of the old street in the alley way. Significance:  Good example of style.  Mr. Walter C. Trout (1874-1947) moved to Lufkin from Milwaukee, Wisconsin, in 1905 as general manager of Lufkin Foundry and Machine Co.  He helped to expand the company from the lumber industry to include oil industry.  W. C. Trout and his father, W. H. Trout, owned a number of patents on sawmill equipment.  He joined Lufkin Foundry and Machine Company after being a sawmill machinery salesman for Allis-Chalmers Company.  In 1938 he was one of the organizers of the Texas Foundries, Inc., another major industry...
view the listing