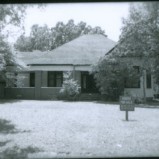 821 South Raguet Street
Posted by bptarpley on Aug 7, 2014 in Uncategorized
821 South Raguet Street Photographs
8121 South Raguet Street 1986 Survey Information
Site No.: L-0612
Address: 821  South Raguet Street
Date: 1910-1920

Town: Lufkin
Block: South End Addition, 1
Lot: 4
Condition: Fair; altered by vinyl siding, roof in poor repair.

Description: 1-story; wood frame with vinyl siding; brick foundation; irregular plan with chamfered bay on front; intersecting hip and gable roofs, composition shingles, two interior chimneys; gallery porch with square brick columns with capitols, low brick wall, entry door with side and transom lights; windows 1/1 wood double-hung, one Queen Anne light in chamfered bay.
Return to Lufkin / Return to ACHC Historic Survey