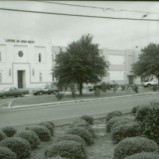 602 South Raguet Street
Posted by bptarpley on Aug 7, 2014 in Uncategorized
602 South Raguet Street Photographs
602 South Raguet Street 1986 Survey Information
Site No.: L-0609
Address: 602 South Raguet Street
Name: Lufkin Junior High West

Date: 1939

Town: Lufkin
Condition: Good; extensively altered by enclosure of large areas of windows.
Description: 2-story; brick with sandstone at the main entry bay and auditorium; flat roof with sandstone parapet; 9-bay facade with pilasters and the entry facade extending above the roof parapet; ribbon-style windows have been closed with vertical siding and two small aluminum replacement windows at each end of a bay; main entry is emphasized by a string course of pink granite which continues to surround the entry door area; entry doors are wood with large glass lights and a circle and stick grill on the lower half; the transom above has a geometric patternedgrille; large cylindrical glass and steel lanterns flank the entry, window areas are filled with vertical siding and small replacement windows; other Art Modern ornamentation includes circular panels at the south end and over the auditorium entry; pipe rail canopies with curved corners at the auditorium and a secondary entry. Dedication plaque on northeast corner of the auditorium; auditorium has alternating brick pilasters and panels trimmed with sandstone with a medallion above. Curved driveway at the front; newer additions to the south and west.
Significance:  Originally was a good example of the Art Moderns style; however alterations have decreased the architectural merit.
Return to Lufkin / Return to ACHC Historic Survey