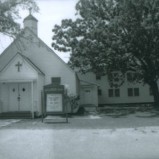 1907 Old Mill Road
Posted by bptarpley on Aug 7, 2014 in Uncategorized
1907 Old Mill Road Photographs
1907 Old Mill Road 1986 Survey Information
Site No.: L-0606
Address: 1907 Old Mill Road
Name: Kelty's United Methodist Church

Date: 1940

Town: Lufkin
Condition: Good

Description: 1-story church with 2-story hall attached at rear; wood frame with aluminum siding; pier foundation; ell plan; gable roofs with composition shingles, six-sided cupola with wooden spire; windows 212 wood and aluminum single-hung with obscure glass in church; extended entry with metal canopy, double wood doors with diamond-paned lights, inset glazed cross above entry; entry to church hall on south side.
Significance:  Congregation dates to pre-1891; earlier church was also used as a school; existing church ­Dave Thompson was chairman of the building committee.
Return to Lufkin / Return to ACHC Historic Survey