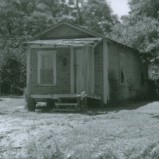 1620/1622/1624 Long Avenue
Posted by bptarpley on Aug 7, 2014 in Uncategorized
1620/1622/1624 Long Avenue Photographs
1620/1622/1624 Long Avenue 1986 Survey Information
Site No.: L-0445
Address: 1620/1622/1624 Long Avenue
Date: 1920s

Town: Lufkin
Block: Company Private Subdivision, Block 2
Lot: 5
Condition: Poor

Description: 1-story; wood frame with brick patterned roll siding; rectangular plan; wood block foundation; gable roofs with tarpaper roofing; extended porch 2 x 4 supports; single entry door; 4/4 wood double-hung windows.
Significance: Worker housing.
Return to Lufkin/ Return to ACHC Historic Survey