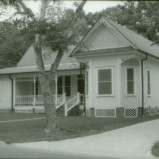 1119 South Raguet Street
Posted by bptarpley on Aug 7, 2014 in Uncategorized
1119 South Raguet Street Photographs
1119 South Raguet Street 1986 Survey Information
Site No.: L-0620
Address: 1119 South Raguet Street
Name: Joe and Clara Stuart Menefee House

Date: 1906-1909

Town: Lufkin
Block: Kerr Addition
Lot: 24
Condition: Good

Description: 1-story; wood frame with horizontal board siding; brick pier foundation; ell plan with chamfered bay; intersecting gable roofs with bargeboards, composition shingles, wood fretwork; wood entry door with oval glass, transom above; windows 1/1 wood double-hung with hood molds.
Significance:  Good example of style; Mr. Menefee was a cotton buyer.
Return to Lufkin / Return to ACHC Historic Survey