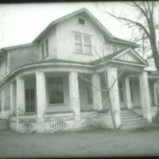 110 South Raguet Street
Posted by bptarpley on Aug 7, 2014 in Uncategorized
110 South Raguet Street Photographs
110 South Raguet Street 1986 Survey Information
Site No.: L-0608
Address: 110 South Raguet Street
Name: J. C. Clement Clinic

Date: 1900

Town: Lufkin
Block: Abstract 40
Lot: Tract 80
Condition: Fair; alterations to provide modern HVAC, poor drainage around structure.

Description: 2-story; wood frame with lapped wood siding; brick pier foundation; irregular plan with central hall; hip and gable roofs with composition shingles, extended beam ends; 1-story porch wraps around the front, chamfered bay at the porch, entablature with dentils, square brick columns with capitols, columns extend into the foundation, south and north areas of porch are curved, extended entry with pedimented gable end with stick-style ornamentation; entry door is wood with multipaned glass lights; windows are 1/1 and 9/9 wood double-hung, some with plain hood a few at rear with flat pedimented hood mold; interior brick chimney at rear; s–unporch on northeast corner partially filled in; one-story addition at mar with shed roof, original on early addition; rear yard is asphalt paved for parking for newer medical clinic to south of this lot; a few large pecan and oak trees on the site; around the front of the house is decorative brick foundation infill in a positive/negative diamond pattern.
Significance:  Scheduled to be sold or moved off the site or demolished. Home of Dr. R. B. and Lydia M. Bledsoe. Still their residence in the 1928 and 1937 directories. During the 1930s a fire destroyed the second story of the house. It was rebuilt in the Bungalow style rather than the original style.
Return to Lufkin / Return to ACHC Historic Survey