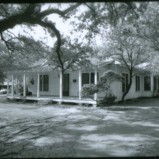 104 Laurel
Posted by bptarpley on Aug 7, 2014 in Uncategorized
104 Laurel Photographs
104 Laurel 1986 Survey Information
Site No.: L-0421
Address: 104 Laurel
Name: Pound Family Residence

Date: 1900

Town: Lufkin
Block: 107
Lot: 3
Condition: Fair- Good; some alterations to porch

Description: 1-story frame with drop siding; hip and gable composition roof; projecting chamfered bay had pendants; inset wraparound porch supported by Doric columns; entry door has side lights and transom with beveled and leaded glass; windows are 1/1 wood double-hung with decorative surrounds; brick pier foundation; massed plan; 2-story garage at rear.
Significance:  Good example of style. Moved east 1/2 block for construction of Art Modern filling station at the corner of Laurel and First. Listed as the residence of S.A. and Naomi Pounds in the 1928, 1937, 1946-1947 city directories. In 1928 Laurel Street is listed as Pole Street. The 1937 directory lists the Pounds & Heard Service Station at 300 Ellis. This was Mr. Pounds place of business.
Return to Lufkin/ Return to ACHC Historic Survey