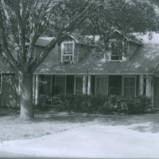 1010 Turner Street
Posted by bptarpley on Aug 7, 2014 in Uncategorized
1010 Turner Street Photographs
1010 Turner Street 1986 Survey Information
Site No.: L-0626
Address: 1010 Turner Street
Date: 1930s

Town: Lufkin
Block: South End Addition, 8
Lot: 3
Condition: Good; altered by asbestos siding.

Description: 1-112 story; wood frame with asbestos siding; rectangular plan with inset porch; side-facing gable roof with three dormers, composition shingles; 4/4, 6/6 wood double-hung windows; paired boxed columns, two entry doors of car siding.
Significance: Built by Depression-era housing project for farmers in Woodlake, Polk County; built of
high-quality lumber, had car siding on interior and exterior; Mrs. Hawkins recalls high-quality carpentry work; second floor added in 1945.
Return to Lufkin / Return to ACHC Historic Survey