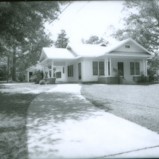 1010 South Raguet Street
Posted by bptarpley on Aug 7, 2014 in Uncategorized
1010 South Raguet Street Photographs
1010 South Raguet Street 1986 Survey Information
Site No.: L-0619
Address: 1010 South Raguet Street
Date: 1915-1925

Town: Lufkin
Block: Parlcview Addition
Lot: 28
Condition: Good

Description: 1-story; wood frame with lapped board siding; brick foundation; rectangular pina; intersecting gable roofs with pedimented gable ends, deep eaves, patterned metal roofing, two exterior brick chimneys on north; extended porch with three cylindrical columns at each end, resting on a brick wall, centered multipaned glass and wood entry door; windows 3/1 wood double-hung windows with hood mold; pone cochere on south with similar details as porch; detached wood frame garage.
Significance:  Good example of type.
Return to Lufkin / Return to ACHC Historic Survey