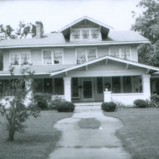 503 North Raguet Street
Posted by bptarpley on Aug 6, 2014 in Uncategorized
503 North Raguet Street Photographs
503 North Raguet Street 1986 Survey Information
Site No.: L-0596
Address: 503 North Raguet Street
Name:  Marsh Residence

Date: 1910-1930

Town: Lufkin
Block: Mantooth Addition, 1
Lot: 1
Condition: Good

Description: 2-story frame with wood lap siding; rectangular plan; composition gable roof with extended rafter ends and knee braces; projecting porch has rectangular masonry columns; dormer and chimney pierce the roof; windows are decorative 6/1 in pairs and fours, with hood molds; decorative multipaned doors, porte cochere on north facade.
Significance:  Listed as residence of Mrs. Chloe Collins in 1928 directory. Residence of Major Marvin W. and Anna L. Marsh in 1937. He was the first District Commander of the CivilianConservation Corp. In 1946-47 it was the residence of Jean and Garvice Shotwell. He was the General Manager of the Lufkin Telephone Exchange. Good example of American Foursquare style. Nominated to the National Register. The significance is architecture.
Return to Lufkin / Return to ACHC Historic Survey