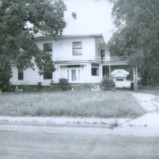 307 North Raguet Street
Posted by bptarpley on Aug 6, 2014 in Uncategorized
307 North Raguet Street Photographs
307 North Raguet Street 1986 Survey Information
Site No.: L-0595
Address: 307 North Raguet Street
Name: Kelley/Dupuy Residence

Date: 1900-1915

Town: Lufkin
Block: Mantooth Addition, 5
Lot: 4
Condition: Good – Fair; paint is wearing away, front porch has been significantly altered.

Description: 2-1/2 story; wood frame with bull-nosed siding; brick foundation; irregular plan; intersecting hip and gable roofs with splayed cave, paired brackets; interior brick chimney; inset entry on raised porch with low brick wall, wood door with large glass light, transom and side lights, slender paired columns, diagonal projecting bay on northeast, railing at second floor porch; porte coeliac on north with slender wood columns; windows wood double-hung with upper sash broken up into multipanes over two larger panes; patterned glass; arched vents at foundation with keystone, lattice infill; 1-1/2 story three-bay carriage house/garage at rear, hip roof, chamfered bay on north, deep eaves.
Significance:  Built for G. A. Kelley, President of the Carter-Kelley Lumber Company, organized in 1906. Kelley (1861-1930s) was born at Huntington, Quebec, CANADA; at age 19 began work as asaw-mill mechanic in Michigan, became involved in remodeling and design of mills; joined Allis Chalmers Co, in 1897, became sales representative in South and Texas. By 1899 he had organized the Lufkin Land and Lumber Co. with E. W. Frost; he sold out to the Long-Bell Lumber interests ca. 1905. In 1906 he was organizer of Carter-Kelley Lumber Company and acted as president until 1928 when he sold interest to W.T. Carter and brother, Carter went on to establish mill at Manning. Kelley was an inventor, patented improved machines for the manufacture of lumber products, also Vice President of the Lufkin National Bank; an the board of directors of several local industries and businesses. From 1919 to 1923 served as Mayor of Lufkin; during his term of office major streets were paved, sanitary sewer system established, fire department reorganized, established city manager/commissioner form of government. He was a member of the Masonic Lodge, received 33rd degree in Masonry in 1921. His wife was Gertrude Davey Kelley of Minneapolis, Minnesota; she was head of Red Cross in Angelina County during World War I. She died August 11, 1925. They had two children, Ward Kelley of San Antonio (deceased) and Gladys Kelley Dupuy. Gladys Kelley Dupuy (1889-1980) was born in Stillwater, Minnesota and resided in Lufkin most of her life. She was educated at St. Mary's Episcopal College of Dallas and graduated from the National Park Seminary in Washington, D.C. She was married to C.L. Dupuy of Lufkin for several years. After their divorce she resided at her parents home. The house is currently owned by their son George Kelley Dupuy of Canada. The residence has significant historical associations, however it has had alterations that are not compatible with the original style, specifically a red brick addition at the rear and the removal of the front gallery. Family photographs are said to exist which could be utilized to reconstruct the gallery. If the structure was renovated in a manner consistant with it's original style, it should be reconsidered for National Register.
Return to Lufkin / Return to ACHC Historic Survey