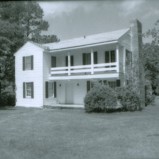 2221 North Raguet Street
Posted by bptarpley on Aug 6, 2014 in Uncategorized
2221 North Raguet Street Photographs
2221 North Raguet Street 1986 Survey Information
Site No.: L-0605
Address: 2221 North Raguet Street
Name: CCC Camp/ POW Camp           

Date: 1930s

Town: Lufkin
Block/ Lot: Block 5
Condition: Good

Description: Warehouse/workshops – concrete block; truss roof system; 2-story house on grounds, altered siding; rough-dressed rock entry gates.
Significance: Civilian Conservation Corps maintenance facility in the 1930s; prisoner-of-war camp in the 1940s.

Return to Lufkin / Return to ACHC Historic Survey