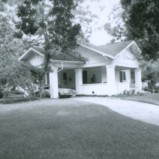 213 North Raguet Street
Posted by bptarpley on Aug 6, 2014 in Uncategorized
213 North Raguet Street Photographs
213 North Raguet Street 1986 Survey Information
Site No.: L-0593
Address: 213 North Raguet Street
Name: Parker/Bradshaw Residence

Date: 1919-1920

Town: Lufkin
Block: 3
Lot: 11
Architect/Builder:  L. W. Baker
Condition: Fair

Description: 1-1/2 story; wood frame with grooved wood siding; irregular plan; intersecting gable roofs with extended rafter ends and brackets, deep eaves, composition shingles; interior brick chimney; extended porch and ports cochere on east and south, brick columns with capitols, low brick wall with concrete coping; primary entry door – multipaned glass and wood, secondary entry on south; windows – 8/1 wood double-hung; detached wood frame garage; chamfered bay on north.
Significance:  Built for Samuel and Freddie Parker 1919-1920. A Mechanic Lien describes the residence as a nine-room Aeroplane Bungalow. Mrs. Parker first saw the design in Hollands, the Magazine of the South, ca. 1918. All the construction materials were from Parker's sawmill, northeast of Lufkin. He hand selected all the lumber. The floors are edge grain pine, three corner fireplaces in living, dining, and den rooms. The stairway in the original plans was changed from a circular stair to the current zig zag configuration. Major alterations to the structure have been sheet rock applied to walls in the living and dining rooms; paneling applied to walls in remainder of the house; bathroom and pantry/kitchen remodeled. Mrs. Bradshaw has a 1924 postcard of North Raguet which shows 207 N. Raguet and a small portion of 213 N. Raguet in the background. The house was originally painted dark brown. Good example of architectural style. Nominated to the National Register. The significance is architecture.
Return to Lufkin / Return to ACHC Historic Survey