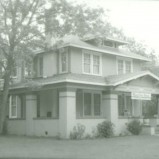 207 North Raguet Street
Posted by bptarpley on Aug 6, 2014 in Uncategorized
207 North Raguet Street Photographs
207 North Raguet Street 1986 Survey Information
Site No.: L-0592
Address: 207 North Raguet Street
Name: Among Other Things

Date: 1920s

Town: Lufkin
Condition: Good

Description: 2-1 1/2 story; wood frame with grooved wood siding; brick foundation; irregular plan; intersecting hip and gable roofs with composition shingles, deep overhangs, hip dormer on east, extended beam ends and brackets; extended gallery porch on east and south, square brick columns, low brick wall with concrete coping; multipaned wood entry door with hood mold; windows are wood double-hung with hood mold, sashes are divided into four panes over two panes/one large sash; extended bays on north and south; exterior brick chimney on south.
Significance: The 1928 city directory lists the residence of Nathan R. and Lillie Miller, Miller was a cashier at First State Bank and Trust. In 1937 residence of Mrs. N. R. Miller and Miss Sybaline.
Return to Lufkin / Return to ACHC Historic Survey