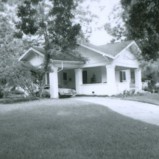 206 North Raguet Street
Posted by bptarpley on Aug 6, 2014 in Uncategorized
206 North Raguet Street Photographs
206 North Raguet Street 1986 Survey Information
Site No.: L-0591
Address: 206 North Raguet Street
Date: 1915-1925

Town: Lufkin
Block: 77
Lot: 1
Condition: Good

Description: 1-story; wood frame with brick veneer; irregular pIan; brick foundation; intersecting hip and gable roofs with pedimented gable ends (plastered), composition shingles, extended porch with square brick columns, low brick wall, concrete coping, single entry door; awnings over entry and front windows; porte cochere on north; windows 9/1 wood double-hung; segmental arched foundation vents with lattice infilI; brick soldier course below the caves; detached 2-bay, brick garage.
Significance:  Good example of style.
Return to Lufkin / Return to ACHC Historic Survey