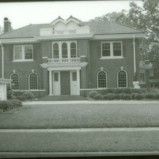 107 West Kerr Street
Posted by bptarpley on Aug 6, 2014 in Uncategorized
107 West Kerr Street Photographs
107 West Kerr Street 1986 Survey Information
Site No.: L-0385
Address: 107 West Kerr Street
Name: Boynton/Kent House

Date: 1929

Town: Lufkin
Block: Gibson Addition, Block 1
Lot: 1
Architect/Builder:  Clarence C Bulgar, Arch.
Condition: Excellent

Description: 2-story; wood frame with brick veneer; massed plan with shallow projections on north, south, west; symmetrical 3-bay front facade; low hip roof with clay tile, ridge cap, deep eaves with coffered soffitt, two gabled dormers with arched panels, tile roofs; skylight at roof peak, exterior brick chimneys on east and south; brick ornamentation on building: soldier course at the foundation and below eaves, flat and arched soldier course above windows; projecting three-tiered entry with inset doorway flanked by Doric columns, brick pilasters, classical entablature crowned by heavy spindle wood railing; wood-paneled doorway with leaded glass, matching sidelights; at second floor three triple-hung multipaned wood windows with arched glass in upper sash, leaded stained glass, balcony with railing; pilasters flanking the entry portico terminated above second floor, portico crowned by wood railing; low brick porch wall with cast stone coping; concentric curved entry steps; windows 6/1 wood double-hung with cast stone lintels, some with stained glass, arched multipaned windows on first floor, wood casement windows on west at service entry; inset balcony with wood railing on west; porte cochere on south with brick columns, low wall, Doric wood columns, wheel brackets, tile patio curved driveway; servants quarters razed; 2-story garage and apartment: wood frame with brick veneer, hip roof with tile; 6/1 wood double-hung windows; three extra-wide garage doors of car siding with upper glass lights; rectangular plan.
Significance: Good example of architectural style; interior finishes are substantially intact; Mr. Boynton was affiliated with the lumber industry; sequence of owners: Boyntons, Perrys, Allgoods, Kent (1982). The 1928 city directory lists Albert L and Arminta Boynton; he was President of Boynton Lumber Company. His father, Amos Chapman Boynton established a lumber company in Carthage, Panola County, Texas, in 1882. In 1898 his two sons, A. L and Moses M. established a sawmill, expanding it in 1913. They purchased the Phillip A. Ryan Lumber Company in 1927. The Boynton business did not survive the Great Depression and A. L. Boynton returned to Carthage. The 1937 directory lists Roscoe L. and Mattie Perry; he was Chairman of the Board of Perry Brothers, Inc. The structure is a good example of Italian Renaissance Revival style; it is substantially intact with many of the original interior finishes. It is nominated to the National Register. The significance is architecture and industry.
Return to Lufkin/ Return to ACHC Historic Survey